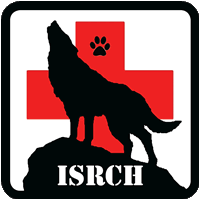 Questions?
Click here for more
information or
Dispatch Information.
ISRCH
Independent Search & Rescue
Canine Handlers, Inc.
INFORMATION FOR
EMERGENCY MANAGERS & RESPONDING AGENCIES

Official Agencies: Click here for Dispatch Information
ISRCH Canine Response Teams are available 365/24/7 to fire, rescue, emergency management, forest services, law enforcement, and other state and federal agencies.


IMPORTANT CONSIDERATIONS FOR
EFFECTIVE DEPLOYMENT OF SEARCH DOGS:

Time is critical and search dogs must be prepared to work quickly. Given the rate at which a person can walk, the search area will expand exponentially with each passing hour. Also, consider that a person in wet clothing can succumb to hypothermia within a few short hours in 50 and 60 degree weather.

Collection of a scent article is critical for successful deployment of K-9s. If possible refrain from handling the lost person's personal articles, such as clothing or bedding, which may be needed to provide scent articles to our canine teams. If appropriate, seal off a room or bedroom until a search team arrives.

Be prepared to respond to the Canine Response Team's questions about the lost person's medical history and personal habits, including their level of experience in the outdoors. The CRT will need your assistance in preparing a Lost Person Questionnaire.

TO THE PUBLIC

While we serve the public, ISRCH Canine Response Teams can ONLY be called by an official agency (local, state or federal).

Private citizens: Please call 911 if you have an emergency. You may request our services through the responding official agency, but please realize the final decision whether or not to deploy us rests with them.