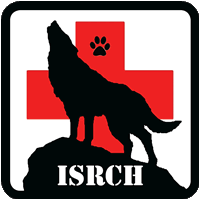 Questions?
Click here for more
information or
Dispatch Information.
ISRCH
Independent Search & Rescue
Canine Handlers, Inc.
SUPPORT ISRCH

ISRCH is a volunteer organization. Each member provides his or her own personal equipment, dogs, supplies, transportation and even worker's compensation premiums. The typical volunteer handler drives thousands of miles using their personal vehicles traveling to and from searches and training exercises and spends hundreds of hours each year training - all at their own expense

ISRCH fundraising proceeds DO NOT go to individual handlers for their own expenses, mileage, personal gear, or support of their own dogs

ISRCH fundraising proceeds DO go for unit search and rescue missions, for member education, training and certifications and informational programs for children and civic groups.

ISRCH members are available to do programs for schools, camps, hiking clubs, scouts, and public service groups on outdoor wilderness safety. We also do programs for fire and rescue agencies on integrating search dogs into search and rescue operations.
SPECIAL APPRECIATION

ISRCH members want to thank their employers for their encouragement, support and released time in devotion to this cause, without which our participation would be impossible.


Cyril "Dad" Page
Honorary Lifetime Member &
Buddy of K9 Sister - aka "Sniffer"



Support Independent Search & Rescue Canine Handlers Inc. by shopping at smile.amazon.com


When you shop at AmazonSmile, Amazon will donate to Independent Search & Rescue Canine Handlers Inc.